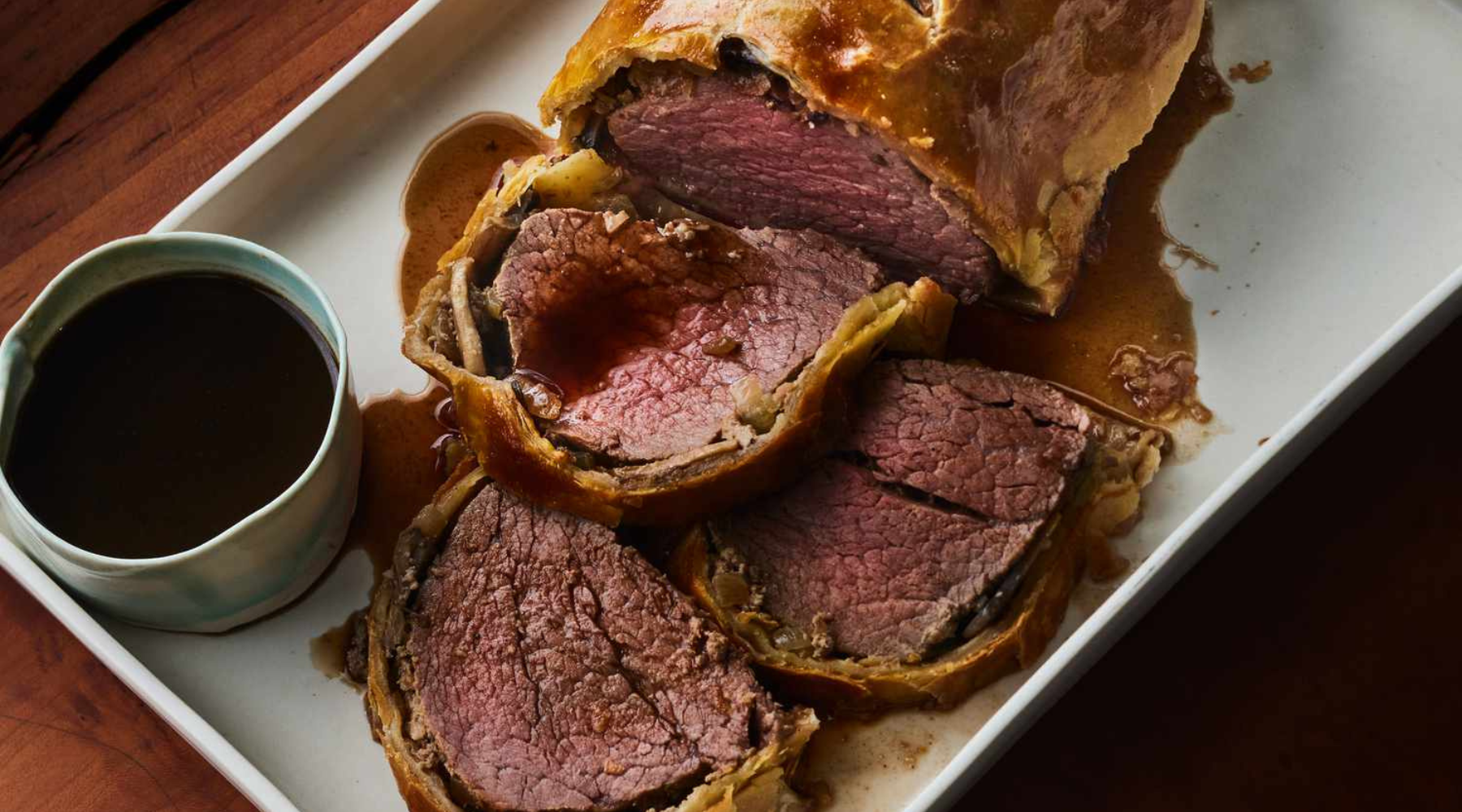 Mummy Beef Wellington
Mummy Beef Wellington from The Food Network
 It is spooky season! Let's kick it off with a fun Halloween recipe!
Ingredients
Beef Wellington
 

One 1 1/2- to 1 3/4-pound beef tenderloin, tail end
Kosher salt and freshly ground black pepper
2 tablespoons olive oil
2 pints cremini mushrooms
2 cloves garlic, chopped
1 shallot, roughly chopped
4 tablespoons unsalted butter
1/4 cup dry sherry
1 tablespoon fresh thyme, minced
4 slices prosciutto
1 sheet frozen puff pastry, thawed
All-purpose flour, for dusting
1 large green olive stuffed with pimentos, sliced, for the eyes
Nonstick cooking spray, for the baking sheet
1 large egg beaten with 1 teaspoon water, for the egg wash
Red Wine Sauce
3 tablespoons unsalted butter, at room temperature
1 medium shallot, minced
1 clove garlic, minced
1 1/2 cups red wine
2 cups beef stock
1 tablespoon all-purpose flour
Directions
SERVES 8-10; 2 HOURS 30 MINUTES
Season the beef with salt and pepper on all sides. Sear 1 to 2 minutes per side. Set aside to cool.
Pulse mushrooms, garlic, shallot until coarse. Melt butter, sauté mixture until mushrooms brown. Season, deglaze with sherry, add thyme. Cool.
Lay prosciutto slices, overlap to form rectangle on plastic wrap. Spread mushrooms, place tenderloin, roll tightly using wrap. Chill for 30 minutes.
Preheat the oven to 400 degrees F.
Roll out puff pastry into a large rectangle on floured surface. Use pizza cutter for 1/2-inch slices on sides, avoiding intersection.
Place tenderloin in the middle of pastry. Wrap it in strips from the bottom, alternating sides, tucking ends under to secure. Leave a 1-inch hole for the "face." Add olive "eyes." Put mummy on greased sheet, brush with egg wash.
Bake until golden brown and the internal temperature reaches 125 degrees F, 35 to 40 minutes.
For the red wine sauce: In a skillet, melt 1 tbsp butter on medium-low heat. Sauté shallots and garlic till soft (3-4 mins). Deglaze with red wine, simmer for 2-3 mins. Add beef stock, simmer till reduced by half (10-15 mins).
Combine 2 tbsp butter and flour in a bowl. In the skillet, reduce heat to low. Gradually whisk in the butter-flour mix, cook until sauce thickens like maple syrup (about 10 mins)
Let the tenderloin rest for 10 minutes, then slice into 2-inch rounds and serve with the sauce.