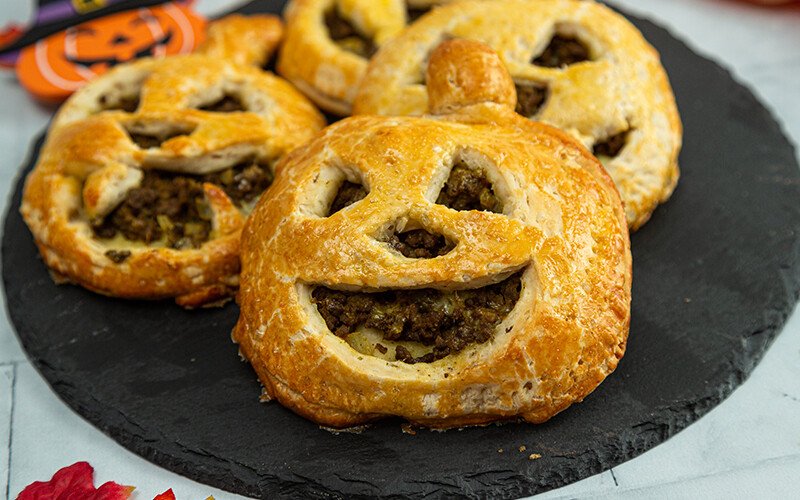 Halloween Ground Beef Turnovers from Laura's Lean
Halloween Ground Beef Turnovers from Laura's Lean
Another one of our favorite spooky season recipes! The cutest - and spookiest - way to enjoy your turnovers!
Ingredients
1/2 lb lean ground beef
1 tbsp onion (chopped)
4 ozs part-skim mozzarella cheese (cubed)
1/4 cup prepared mustard
2 pkgs refrigerated flaky biscuits (large tubes)
1 Egg (lightly beaten)
Directions
SERVES 4; 45 MINUTES
In a large skillet, cook beef and onion over medium heat until meat is no longer pink; drain. Add cheese and mustard; cook and stir until cheese is melted. Cool slightly.

Flatten each biscuit into a 4-in. circle; place four biscuits in each of two greased 15x10x1-in. baking pans. Spoon 2 heaping tablespoons of meat mixture onto each.

Using a sharp knife or cookie cutters, cut out jack-o'-lantern faces from remaining biscuit circles, place over meat mixture and pinch edges to seal tightly. Reroll scraps if desired and cut out stems for pumpkins.

Brush with egg. Bake at 350° for 10-15 minutes or until golden brown.